It's A Halloween Mash Up
It's that time of the year, Halloween! Welcome to my Halloween mash up of 16 awesome Halloween blog posts.
HELLOOOOOOOOO!!!! Holy cow my friends! I have been MIA. I have been taking care of me. My mental and emotional me. Some things had to go, and blogging was one of them. I'm hoping to be back to normal. But I'll have to take it a week at a time. But it's HALLOWEEN time my friends. And I have a Halloween mash up for you.
This post contains affiliate links at no extra cost to you. Thanks for your support of A Red Hair Girl. To get the full disclosure click here.
I went through all my old Halloween blog posts and put together a list of eighteen of my favorites. Okay, it's all my Halloween ones that are not already in a "bundle." This is an easy way for me to "get back into it." 😊
Do you love Halloween? I sure do! It is so much fun and then throw in your own kiddos and it explodes!
Here is my list of sixteen pretty awesome Halloween Mash Up blog posts (if I say so myself, haha):
Halloween Mash Up Blog Posts
1-4. Halloween Themed Books
You know that I am a sucker for picture books. Here are four posts that highlight some wonderful Halloween books. Do you have some of these or do you need to hurry and order them?
In each post the link to buy the books can be found in the title, the picture, or at the bottom there are pictures and links to all the books. I made a mistake, years ago that I just found. Let me know if you find it in the comments below. 😊haha
5. Halloween Poems
To go along with Halloween books next up is, Halloween poems! I created some FREE printables you can download and use right away. When I was teaching, I loved doing poems with my students We would have a lot of fun with them.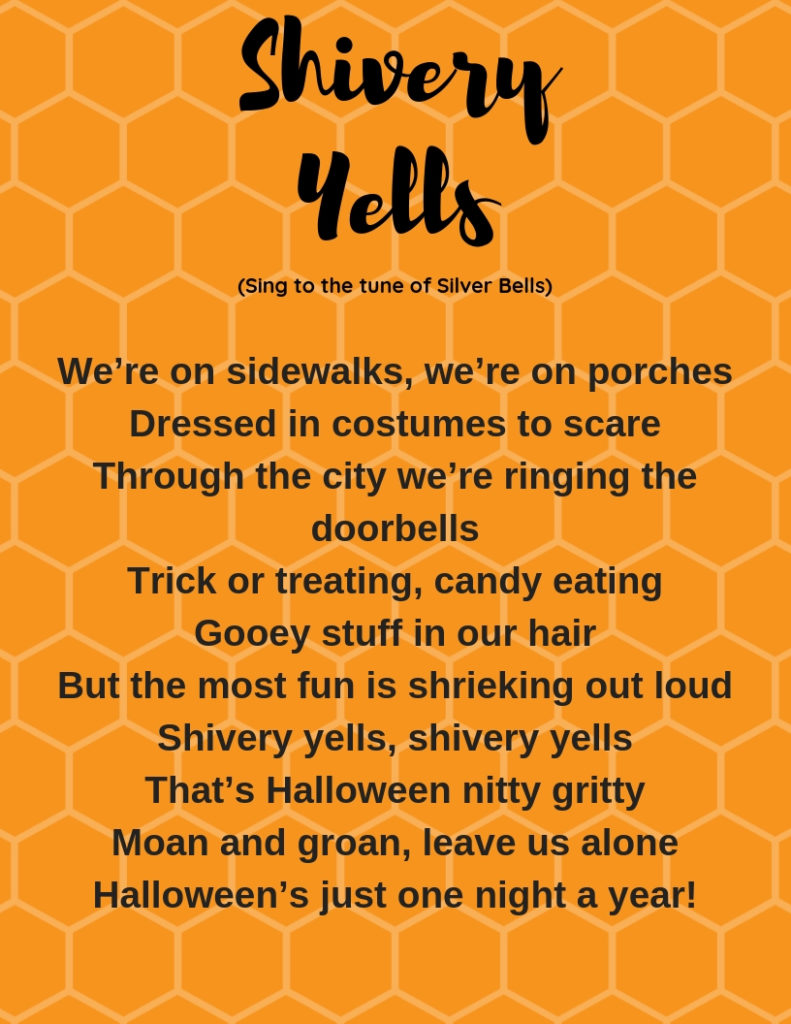 6. Fast Mummy Cake
Food! Let's take a few minutes and do some Halloween food posts, shall we? If you're like me and love to bake but are not great and nailing the Pinterest versions, this cake is for YOU! Easy, delicious, and cute to boot.
7. A Halloween Themed Dinner
We started to do Halloween themed dinners a few years ago and have loved doing it every year. This was our first one. Now it is an extended family thing. And my mom gets really into it!
8. Halloween Themed Dinner to Not Stress About
Wait, what? I just did a Halloween themed dinner. Haha! You bet I have two on here. This Halloween themed dinner is low stress in case you find yourself getting a wee bit stressed about all. the. things. You're welcome my friends! 😊
9. Three Ways to Decorate a Pumpkin
This is a Halloween must do. Am I right? In case you don't love pulling out the knives here are some different ways you can still have fun with your kiddos and still get those pumpkins decorated.
10. Teal Pumpkins
Speaking of pumpkins, have you heard of the teal pumpkins? If not, read to find out about what I am talking. If you have, then read to see a cute and easy way to have a teal pumpkin that lasts from year to year.
11. Halloween Fabric Garland
If crafting is your game, then this is a fun one. You can get a fun Halloween decoration done in a little amount of time. You can use it year to year, pick out some fun Halloween fabric, and display it for all to see. The best part? You can use this Halloween Fabric Garland for any holiday.
12. Glass Jar Craft
This was such a blast to make a few years ago. With just some simple supplies you're set to have a fun crafting afternoon or evening. These Halloween glass jar craft can be super creative or something simple.
13. Fun Family Costumes
There was a time when I was into the family themed costumes. I don't have the energy now, haha! And my kiddos have a fun time deciding what they want to be for Halloween. In case you have the energy, here are some fun ones we have done in the past.
14. Reverse Trick or Treating
Now that you have some costume ideas lets talk about trick or treating with a twist! Reverse trick or treating. You don't need to dress up for this, but it would make it more fun.
15. Halloween Things to Do in Your City
There are loads of fall and Halloween things to do around town in so many places. If you need some ideas check out this post to give you all the ideas. 😊
16. Seven Reasons I Love Halloween
If you haven't guessed by now, I love Halloween! Haha! Here are seven reasons to drive this point home.
Thanks for coming along with me in this Halloween Mash Up! There are posts for everyone. I hope you can find something that will help you and your cute families this fun Halloween season. Stay safe and keep those teeth brushed. Haha.
Xxx, Steph