Fall Means Baking Homemade Bread
Who loves the good smells that fill your house when bread is baking in the oven? Then, you NEED to try this yummy homemade bread recipe today. What are you waiting for?
The air starts to get crisp and cool. The days are not as long. A few leaves here and there are losing their green and turning into beautiful yellows, reds, and oranges. Do you know what this all means? It means fall time!! Fall is one of my favorite seasons. I love the leaves, especially looking at the mountains and seeing bursts of bright color. I love the feel of the holidays right around the corner. It also means my birthday is near. The cooler weather is a nice break from the heat. And I don't know about you but I love to bake in the fall. When Eddy and I started dating his mom baked lots in the fall. One thing she made that is to die for was homemade bread. So, of course fall means baking homemade bread!
It has been a long time since I have made this bread. I don't know what I was thinking!! I should be making it more, because it is delicious!
Many times when we have baked beans I make a batch of this homemade bread. If I can time it right, it is finished just before we sit down to eat. My favorite thing is to spread butter on the hot bread. Then drizzle honey on the top. It is too messy to eat with your hands, so grab a fork and let's get ready.
Gather all of your ingredients.
You are going to need:
warm water
oil
sugar
yeast
salt
wheat flour
powdered milk
honey
white flour
Let the yeast get bubbly.
You need to mix together warm water (Not hot water or that will kill the yeast. You will get brick bread. And nobody wants brick bread!), oil, sugar, salt, and the yeast. Let it sit for a few minutes while and watch the yeast get bubbly.
Now it's time to add the next three ingredients.
Put in the wheat flour, powdered milk, and honey. Let it mix for a few minutes to bring up the gluten.
Last but not least.
You get to add the white flour and get kneading.
Let it rise!
This recipe calls for a few risings. Once in the oven preset for 95 degrees. My oven doesn't go that low, it stops at 170 degrees. I preheat the oven to 170 degrees and then turn off the heat. Then punch the dough down and let it rise again. Last put it into your greased pans and let it double. It's almost done!
And finally!!
Let that homemade bread bake baby bake! Seriously get ready to eat nothing but bread until your belly is full!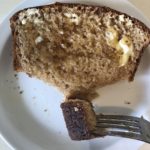 Best Homemade Bread
Mouth watering, homemade goodness!
Prep Time
1
hour
30
minutes
Ingredients
3

cups

warm water

1/2

cup

oil

1/4

cup

sugar

2

Tbsp

yeast

1

Tbsp

salt

4

cups

wheat flour

1/2

cup

powdered milk

1/2

cup

honey

2

cups

white flour
Instructions
Mix the warm water, oil, sugar, salt, and yeast together in your mixing bowl. Let your yeast get bubbly.

Then add the wheat flour, powdered milk, and honey. Mix for about 3 minutes on high. This will bring up the gluten.

Add white flour. Knead the dough. You can do this by hand or in your standing mixer. If you need to add more white flour you can pour a little in at a time until it isn't super sticky.

Preheat the oven to 95 degrees and let the dough rise in the oven for 30 minutes.

Take the dough out and punch it down. Let it rise for another 15 minutes.

Spray your bread pans. Pour the dough into bread pans. I usually get two big loafs. This will make large loafs. You can make more to get smaller loafs. Let your dough double in size, about 20 minutes.

Bake your bread at 400 degrees for 30 minutes. Check it about half way through to see how it is going. You can adjust your baking time to get the bread you want.
Recipe Notes
If your oven does not go as low as 95 degrees you can preheat it at the lowest and then turn the oven off to let your dough rise. You don't want to cook it now. 
You can use all white flour or less wheat flour if you choose. 
Happy baking amazing homemade bread!
Xoxo
Steph