4 Fun and Easy Healthy Snacks You Will Love
SharePinTweetIt has been a goal of mine for the past few months to find healthier snacks that were easy to grab and yummy to eat. I finally got around to…
It has been a goal of mine for the past few months to find healthier snacks that were easy to grab and yummy to eat. I finally got around to it. Today I'm going to tell you what the healthy snacks are and how to make them.
I wanted healthy snacks that had some protein, some veggies, and some that were sweet tooth cravings. There is a little bit for everyone. These would be a great meal prep day or few hours.
Healthy Snacks
Protein balls
popcorn
Zucchini chips
Zucchini muffins
Protein Balls- Chocolate Peanut Butter
There are so many recipes for protein balls. I found the recipe over at Eating Bird Food.
I have only made the chocolate peanut butter because why make another one when I LOVE this one. Some day I will try more. And Eating Bird Food has many different recipes.
What I love about protein balls is that I get a double whammy: protein and sweetness in a snack. I made the whole batch, flash freeze them, and then stick them into a tuberwear and into my fridge.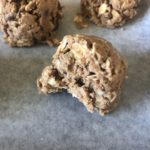 Chocolate Peanut Butter Protein Balls
Ingredients
1.5

cups

oats

1

cup

peanut butter

1/4

cup

honey

2

scoops

chocolate protein powder

2

TBSP

chocolate chips
Instructions
Put the oats, peanut butter, honey, and protein powder into a bowl and mix until well combined.

Add the chocolate chips and stir to combine.

Use a small cookie scoop to make into balls.

Place onto a cookie sheet. Put them in the freezer for 10-15 minutes to flash freeze.

Put the protein balls into a tuberwear and store in the fridge or freezer.

If the mixture is dry you can add more honey, peanut butter, milk, or water a little at a time until it mixes together better.

You can use whatever kind of chocolate chips you want: semi-sweet, milk, dark, mini., peanut butter, a mixture. Have fun and get creative with this.
Popcorn
So I know that this snack isn't new or anything. But, popcorn is really good. 🙂 It also has fiber which we all need. And it's super easy to make. Three ingredients and a popcorn popper, then you are in business.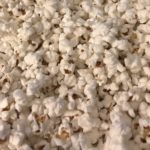 Popcorn
I have a Whirly Pop, so my directions and amounts are specific to the Whirly Pop.
Ingredients
1/2

cup

popcorn

1-3

tbsp

coconut oil

salt- to taste
Instructions
Put the coconut oil and popcorn into the Whirly Pop.

Turn the stove onto medium-medium/high.

Turn the handle until the popcorn popping slows down most of the way.

Pour the popcorn into a bowl and season with salt.

I try to make a few batches at a time and keep the popcorn in a large container.
Zucchini Chips
Who doesn't love a good chip to snack on? The salt. The crunch. It's all good. The bad thing about chips is they are just not that healthy for you. I deiced to try my hand at zucchini chips.
Now that is a much better healthy snack. I tried a few different things. I used my spiralizer and a knife to cut the zucchini. In the end I like just using my knife.
I tried to bake them and dehydrator the zucchini in my food dehydrator. They both worked well. It was nice to have more space by using both. The recipe will give directions using an oven.
If you want to use a food dehydrator slice the zucchini the same and lay in a single layer on the trays. It will need to dry for 8+ hours. It just depends on how thick you sliced the zucchini and how dried you want them to be.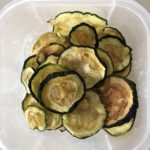 Zucchini Chips
Ingredients
2

zucchinis

olive oil

salt

pepper
Instructions
Preheat oven to 200 degrees. Place wax paper into a cookie sheet and spray with cooking spray.

Wash and slice the zucchini about 1/4 inch thick.

Put the sliced zucchini into a bowl. Drizzle with olive oil, salt and pepper to taste.

Lay the sliced zucchini in a single layer on the wax paper.

Bake for 2 hours. Check about ever 30 minutes. You may need to bake longer if the chips are still moist.

You can store in an airtight container for a week or two.
Zucchini Muffins
We love muffins in our house. We also love banana bread and zucchini bread. In the summer and early fall when we have a ton of zucchini from our garden we love to make lots of bread.
I decided to make a healthier version of zucchini muffins. They turned out really good. My whole family enjoyed them. So I made them again, times 4 batches. 🙂
The recipe I used is from Better Homes and Garden's cookbook. I learned from my dad to split the sugar in half: use half white and half brown. This makes it super yummy!
Healthy Zucchini Muffins
Ingredients
1/2

cup

white flour

1/2

cup

wheat flour

1/2

cup

vanilla protein powder

1

tsp

ground cinnamon

1/2

tsp

baking soda

1/2

tsp

salt

1/4

tsp

baking powder

1/4

tsp

ground nutmeg

1-2

eggs (if the batter is to think you can add the second egg)

1/2

cup

sugar (do 1/4 white and 1/4 brown)

1

cup

shredded zucchini

1/4

cup

unsweetened applesauce
Instructions
Preheat oven to 350 degrees. Spray the muffin tin or place muffin cups into the muffin tin.

Mix all the ingredients together in a mixer or with a bowl and hand mixer.

Scoop about 1/4 or use a small cookie scoop and place into each muffin tin.

Bake for 15 minutes or a toothpick comes out clean.

The muffins will last a few days-week in a plastic bag or airtight container.

You can also place in a plastic bag or airtight container and keep in the freezer for much longer. When you are ready to eat place a however many you want on a microwaveable plate. Heat for 10 seconds at a time until they are thawed and warmed throughout.

The changes I made to make these more healthy: cut the sugar in half, use unsweetened applesauce instead of oil, replaced 1 cup of flour with 1/2 cup wheat flour and 1/2 cup protein powder.

I ususally add a bit more ground cinnamon and ground nutmeg to give my bread a bit more flavor.
What are some healthy snacks that you enjoy? Please share them with us. I'd love to try them out. Happy snacking and making good choices with your healthy snacks.
Xoxo, Steph