Zucchini Chocolate Chip Cookies
Need a spin on zucchini or chocolate chip cookies? I have your back with this super yummy Zucchini Chocolate Chip Cookies.
It's a great day for cookies, don't you think?! If I'm being totally honest, everyday is a great day to EAT cookies. Yum! I don't really want to make some every day but eating them…that's a different story. There is just something so wonderful and calming about eating a warm, just baked cookie and a glass of cold milk. So today I'm going to share a zucchini chocolate chip cookie recipe I found and tweaked.
Let's talk zucchini for a minute. It's the end of the summer and beginning of fall so that means just about everyone is getting sick of zucchini. I'm no different. There are only so many ways that I make it taste different when using it for dinner. This is when the fun starts and I like to put it into my baking. I have loads, I'm talking 42 cups of shredded and bagged zucchini in my freezer to use all winter and spring.
We sure love zucchini bread and muffins. But, using it in cookies is also super easy and yummy. Let's get started and make a big batch of zucchini chocolate chip cookies!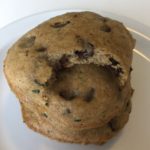 Zucchini Chocolate Chip Cookies
A yummy way to get some shredded zucchini into cookies.
Ingredients
1

egg- beaten

1/2

cup

butter- softened

1/2

cup

brown sugar

1/3

cup

honey

1

TBSP

vanilla extract

2

cups

flour

1/2

tsp

baking soda

1/4

tsp

salt

1/4

tsp

cinnamon

1/4

tsp

nutmeg

1

cup

finely shredded zucchini

12

oz

chocolate chips
Instructions
Add and mix egg, butter, brown sugar, honey, and vanilla in a bowl.

Add and mix flour, baking soda, salt, cinnamon, and nutmeg in a different bowl.

Combine the wet and dry ingredients until mixed well.

Add the zucchini and chocolate chips and mix.

Drop spoonfuls of dough onto a greased pan. You can flatten with the back of the spoon if you want.

Bake at 350 for 13 minutes. Depending on your oven you can bake anywhere from 10-15 minutes.
Recipe Notes
I have used half butter and half applesauce. This will make a more bread like cookie. You can also experiment with different flours (wheat and/or white). If your dough feels too sticky you can add a little more flour until you get the desired texture. 
What is your favorite way to bake with zucchini? Happy baking and eating!
Xoxo
Steph