Peanut Butter Oat Squares
Want to eat a bit of heaven? Well then, you'll need to try these Peanut Butter Oat Squares. Now.
Oh my these are heaven!! A few months back we were visiting my sister Emily and her family. She had made these amazing square things. They were in her freezer and I'm not going to lie I was a little skeptical about them being there. But once I tried them I had to have more! I was nursing my almost 2 month old baby during the night and would get hungry, so hungry. So I would quietly leave our bedroom and walk down the hall to grab some of those squares. We ate them pretty fast! Sorry Em!
Before we left I made sure I had the recipe so we could make them at home. The first time I made them it was after all my kids were in bed and my husband was at work. No one knew we had them, just like I was hoping. Haha! I didn't have to share them until they were almost gone when my very observant 6 year old son saw me eating one. My little secret was blown. MAN!
So when the last few were gone we quickly made more. Mr. E and Miss L love them as much as I do. And I love how simple they are. I know you all want me to get to the good part so here is the recipe for the best square things ever! I don't know the real name so over here we call them peanut butter oat squares or peanut butter squares. You can call them anything you want, so go ahead and have fun naming these little bits of heaven.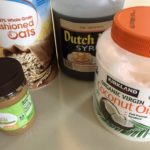 Peanut Butter Oat Sqaures
Ingredients
1

cup

peanut butter

1/2

cup

maple sryup

1/2

cup

coconut oil

2

cup

oats
Instructions
Put coconut oil, maple syrup, and peanut butter in a sauce pan. Stir until melted. Take pan off the heat and stir in the oats.

Prepare a 9x9 pan with wax paper. Pour the mixture into the pan. Place into freezer. Once the PB Oats are solid you can cut them into squares. Store them in the freezer. Enjoy!

You could add: chocolate chips, protein powder, or anything else you feel might be good with these.