Pain Points: A Year to Your Best Self Series
Get stressed when you open a drawer or grab something in that messy cupboard? Those are pain points! I'll teach you how to eliminate them.
This month we are going to talk about pain points. What are pain points? Stay tuned, I'll get to that. But first, this is a year long series that is going to help YOU become a better YOU! Are you ready?
Here are the first two posts of the year:
January: Setting 2022 To Be Your Best Year Ever
February: Planning Your Year Out in a Few Hours or Less
This post may contain affiliate links at no extra cost to you. Thanks for your support of A Red Hair Girl. To get the full disclosure clickhere.
I will be writing a new blog post for this series each month. We will tackle something that will help us become better, less stressed, more organized, etc. Get PUMPED!
What are Pain Points?
Pain points are things that cause stress, frustration, or irritations. It can be a behavior, or a physical space in your home. Or honestly, a lot of other things. In this post we are going to focus on spaces in our homes.
Why do Pain Points Happen?
Do you have a space in your home that bugs you every time you use it? Picture that cupboard that is so full of junk that things fall out when you open it. You know you pictured that cupboard. Haha!
Even though I have gone through most every space in my house a few years ago junk had crept back up. There are many places that cause stress and anxiety when I need to use them.
When you don't stay on top of things once they are cleaned out, junk will pile up. If you don't teach your family how to use, keep, and put things away correctly you will not win this battle. That is me! I thought I did a good job labeling things and showing my family how to put things away in shared spaces.
I was wrong. Haha!! We have room to grow and get better.
3 Best Tips to Eleminate Your Pain Points
I'm going to share with you how I am going to tackle the pain points in my house AND teach my family how to be better at helping me. Not just piling up junk and making me go crazy! Haha.
Make a List of ALLLL Of Your Pain Points
Print up my free simplify printables that will help keep all your spaces organized. Once they are printed up take a room at a time. Go to that room and write down all the spaces that drive you bonkers. You can be as vague or detailed as you want.
I suggest you be more detailed. This leaves little room for mistakes.
Do this for every room in your house.
If you notice these Organize Your Life Printables have pages for your mental and physical health. We are not focusing on these in this post. But feel free to fill them out currently if you want. Or leave them blank and we can get to them later.
Organize Your Pain Points
Now that you have gone through every room and space in your home you get to organize and prioritize your pain points. Get ready to have some fun. At least I think this is fun. 😊
Read over all the pain points you made on your room pages. Notice how they make you feel as you read them. If you get a feeling of stress or anxiety, make a note. A dot or check mark is great.
Keep reading and looking through you lists.
When you are finished look back at the dots of check marks. Do you still get that same feeling? This is where you will start.
It's Time for an Action Plan
I know I said that the last part was fun. It was. This part is also fun. It may just be me…but that's okay!
Now is the time to pick ONE of your pain points and make a plan of action. For me, that is our medication storage. It seems to get worse every time I need something.
Follow these steps:
Write down your pain point and why it is a pain point.

My pain point is my medication storage. I hate how messy and disorganized it is. And most of the time medicine falls out when I'm getting something.

Write down what you want to fix and why.

I want to organize my medications, so I don't get stressed every time I need to get something out of the containers.

Write your goal of when you want to finish this. (Tip: Don't have it too far away.)

I want to have my medications organized by March 10, 2022.

What do you need to get this goal accomplished?

I already have containers that I can use to clean out and organize by type of meds. I have a label maker I will use to label so Eddy knows what goes where.

How are you going to keep it a pain free pain point?

By having different containers for different types of meds it will be less messy and have more room to add medications if needed. I will label each container so Eddy will know where meds go and where to find what he needs. My children don't get into this locked cupboard or get meds on their own. I will teach Eddy how and why I organized the medications.

Celebrate once you met your goal!

I will do a happy dance and FEEL so much more peaceful when I need to grab any meds.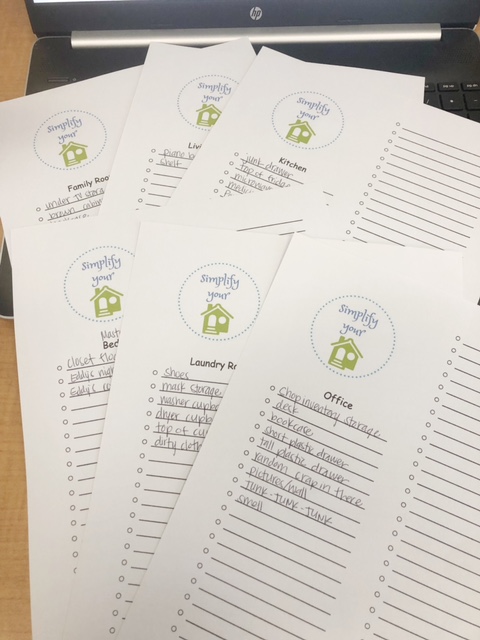 What is Next?
Now that you have written all your pain points down and accomplished getting one fixed, I suggest you keep going! Take one pain point at a time to get solved. Use the steps above to work on each one.
When you are detailed and take a few minutes to think about why you are going to do something you will have purpose. You will have a drive that will fuel you to follow through on your goal.
A goal that I have is trying to get to one pain point a week. I feel that for me that is a very attainable goal. There may be some weeks I can tackle more pain points. There may be some weeks I can't get to any. And that is okay!
This is not to add stress to your life. This is a process to help you eliminate stress, anxiety, and pain points that do no good for you.
If you found this helpful, please share with others! I want to be able to help you and others to find and fix things that cause you stress or anxiety. We can do this! You can do this! One small pain point at a time.
Xxx, Steph
Do you want to read more about organizing and projects that I have done in the past? I have so many, take a look. Thanks!