Blogtober From Halloween Pasts
Last year I did a thing. I did a blogtober thing. There are many good holiday themed posts that I thought I should share them with you all this year.
Last October I did a crazy thing. I participated in Blogtober. This is when a blogger posts something fall or October related throughout the month. I did a post daily. DAILY! Holy cow you guys, it was tough!
But it was also a ton of tun. I thought it would be great to focus on all of those posts from last year. You will find Halloween books, crafts, food, and other fall or October themes posts. There are a few non fall or holiday related posts mixed in as well.
Enjoy a month's worth of BLOGTOBER posts!
Day 1 was a Fall Tag from another blogger. I was able to answer 7 questions about me and fall.
Day 2 Zucchini chocolate chip cookies anyone??? They are yummy and healthy… well they do have zucchini in them. Haha
Day 3 Do you need some help with some family themes Halloween costumes? I've got your back! They are also DIY and pretty easy to make. That's what I'm about. 🙂
Day 4 I love children's books. I love holidays. So holiday children's books are a great combo! What would blogtober be without Halloween books?? I have way too many Halloween books so I had to break them into multiple posts. Here they all are: Day 11, Day 18, Day 25, and day 31.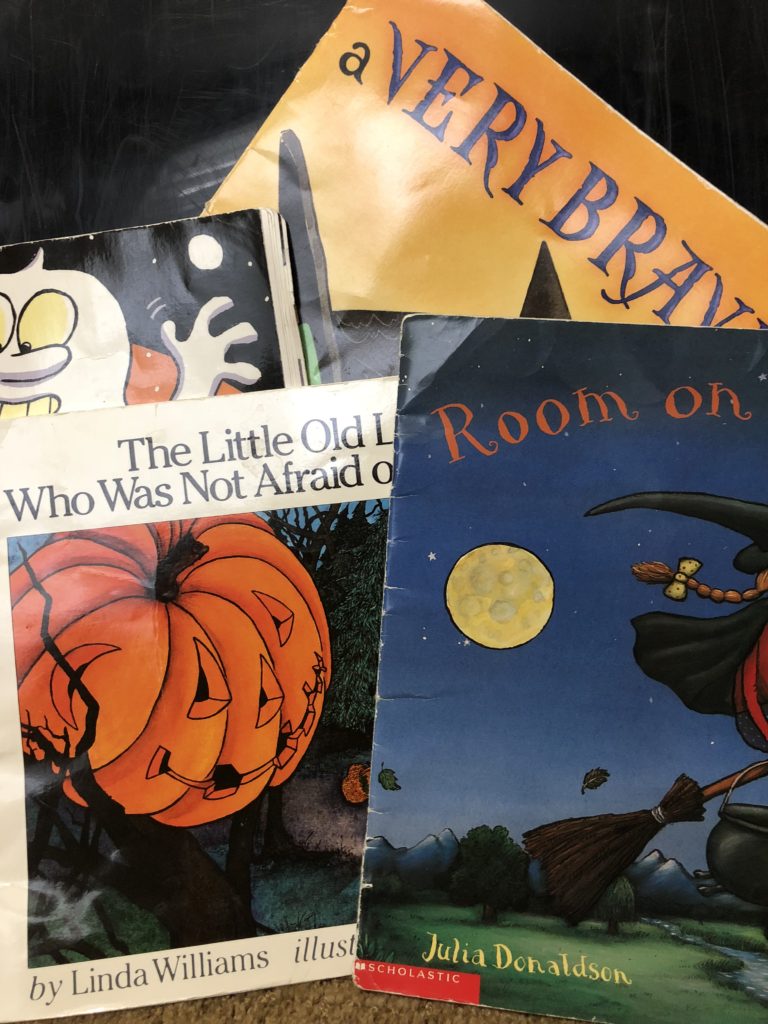 Day 5 I take a break in the holiday fun to share some real life. That weekend was tough for me and I was depressed. It's important for me to stay real with you all. Have a read and I hope you find comfort in knowing you are not alone with hard weekends.
Day 6 If you live in the Salt Lake area or are going to be visiting there is a little sculpture park named Gilgal near downtown. It's weird and fun at the same time. You could spend 20 minutes there or a few hours.
Day 7 Do you remember when I did Sunday Motivations? I'm thinking in the new year I should do some of those again. Anyways, this was my first one. And it's a good quote! Here are the rest of Sunday Motivations for October: Day 14, Day 21, and Day 28.
Day 8 Do you need to dress up your porch for fall or Halloween? This post will help you out.
Day 9 I know I keep saying this buttttt fall means soup! Here is a good and easy one. Dinner in 30 minutes? Yes, please!
Day 10 When I taught first grade we did A LOT of poems. I would give them a holiday poem packet that they could keep in their book boxes. Here are a few of my favorite Halloween ones. Oh, and some free printables. You're welcome. 🙂
Day 12 I interupt this holiday moment to bring you how I organized my freezer spur of the moment. Boy, it felt great!
Day 13 I have another awesome place that you need to visit. Anytime would be fun. But going in the fall is awesome! We went to Logan, Utah. It is now a tradition, going on 3 years this year. Lots of fun to have and some great deals on food.
Day 15 Have you heard of a teal pumpkin for Halloween? Do you know what it means? I explain it all in this post.
Day 16 After reading this post you are going to want to RUN to the store to get the ingredients to make this super yummy cookie recipe. I'm not the best cookie making but these cookies are pretty much golden. It's hard for me to mess them up!
Day 17 If you either have little kids or are sick of the traditional method of carving pumpkins I have a post dedicated to 3 ways to your pumpkins. Spoiler alert: non of them involve a knife. 🙂
Day 19 Many times holidays can spark some unwanted negative feelings. They can be a lot of pressure. This may be a mental health trigger for you (and here). This post can help you prepare and make the best out of it.
Day 20 Take a look around your city and let's find some fun things you can do with your littles around this fun filled holiday.
Day 22 I was shocked and surprised when I was awarded the Sunshine Blogger award. Here is my post about it. What a great experience. 🙂
Day 23 Do you need to take a spooky dessert to a party this year? This mummy cake is both easy and yummy. You should take this yummy mummy cake. 🙂
Day 24 I really like to decorate for holidays. I also like to save money. Crafting is a fun thing to do. So many times I make my own decorations. This is a pretty simple holiday garland. It may take some time but it's easy. Also, you can do this for any occasion.
Day 26 This mental health post is a bit random but it all comes together in the end. Sometimes we need random to help our life make sense. And a break from blogtober. 🙂
Day 27 Here is another awesome destination for a day of family fun in Springville, Utah. The hour drive for us was worth it. Being there in the rain was worth it. Having to stand and nurse my baby in the rain was worth it. We will be going again this year.
Day 29 A little lesson in family dinner and family serving. Both are important. And both need to happen.
Day 30 I don't know about you but I feel like holidays deserve a holiday themed dinner. Sometimes simpler is better then fancy smancy. Especially with littles, hot dogs and crescent rolls are the best.
I'm very excited to be starting another Halloween season. We have some fun traditions planned and some new things we want to try. Stay tuned as I have a craft, a treat, and a new dinner that's all Halloween themed. Thanks for reliving blogtober with me!
I'd love to see and hear about some of your fall/October/Halloween traditions. Comment away in the comments. 🙂
Xxx, Steph