Homemade Soap, The Easy Way
This homemade soap recipe is super easy to make. With just three ingredients you can't go wrong. You will wonder why you didn't start making this earlier.
For the last few years I have made my own homemade soap. Why? You ask. Well, let me tell you. 🙂 The main reason was to save money. I like it better and I love saving money. So it's a win win. We are literally washing money down the drain. Haha! So it's nice to be able to save where we can. Plus spending money on things like hand soap is a total drag. That's why homemade soap is very nice.
This post may contain Affiliate Links. 
The recipe I found has four ingredients, but I eliminated one, so all you need is three.  That's all, just three! Super, duper easy. All you need is water, essential oils, and castile soap. And of course a foaming pump bottle. The first time I made this I went and bought two bottles. Then I got smart. My mother in law gets the hand soap from Bath and Body Works. I asked her if I could have her bottles when the soap was gone. Just like that I have a collection of 25 bottles. Haha, that seems like so many, because IT IS! But the very nice thing about that is I only have to make this homemade soap about every other month.
Let's get to it, shall we?
First gather all of your bottles (I like to open them all up and put them on a towel in case I spill), castile soap, and any essential oils you want to use.
Next you put in the castile soap. I like to use the unscented kind because you will add the scent you like with your oils. I order the castile soap by the gallon from Amazon. You can order the same kind by clicking on this link. 
Then you put in a combination of essential oils. I always you melaleuca (tea tree) and peppermint. I love the smell of peppermint and the purifying properties of melaleuca. I put a total of about 7-10 drops in each soap bottle. Usually more peppermint then melaleuca.
Then you add water. Just water straight from the tap. Fill it up close to the top. You want to fill it up enough but not too much that water comes out when you put the pump in.
Last put the pump on and you are good to go.
When using the soap you might need to give it s quick shake because the water and castile soap may separate in between use.
A few reasons why I love this homemade hand soap:
I love how easy foam soap is to wash off, especially for little hands that like to get lots of soap.
I can get two pumps of soap and get a good wash without adding water first. I get to save a bit of water and not have it running while I soap up and lather.
I can make it quickly and make it in bulk.
The smell! I know I could use any oil I have but I just love peppermint. It smells clean.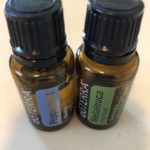 Homemade Hand Soap
Ingredients
2

TBSP

unscented castile soap

7-10

drops

essential oils

water
Instructions
Add 2 TBSP unscented castile soap to your empty foaming soap bottle.

Add 7-10 drops of essential oils.

Fill the bottle near the top with tap water.
This is for an 8 oz. bottle.
Let me know what you do for hand soap. And happy washing!
Xxx
Steph
Shop this post.