Teacher Appreciation Week To Make Any Teacher Happy
Be super prepared for a week's worth of awesome teacher appreciation ideas. These are easy, fun, and your kid's teachers will love them.
This week is teacher appreciation week! A friend of mine and I oversaw this week at our kid's elementary school. It was a blast to do. But holy moly! We are tired!
Keep this tucked away for next year. 😊 Then you'll have a week's worth of ideas and printables to help you plan a great teacher appreciation week at your school. Woohoo!
Daily Ideas for Teacher Appreciation Week
Monday
We gave the teachers 15 minutes of extra lunch (hint: this was one of their favorite things!). While they were having their extra lunch, we had volunteers go into their classroom to be with the kids.
We had hearts all cut out for the kids to write on and tape on the door. Who doesn't love getting heart attacked?
There was also a book page for the students to fill out. It's a blast to see what funny things the kids say about their teachers.
The last thing we did with the students was take a class picture to go on the cover of their book.
In the faculty room we had bags of chips and water with crystal light for them to grab a quick snack.
Tuesday
This was our major snack day. We had a bunch of different drinks cooling in the fridge. There were buckets of snacks: fruit, trail mix, popcorn, and granola bars.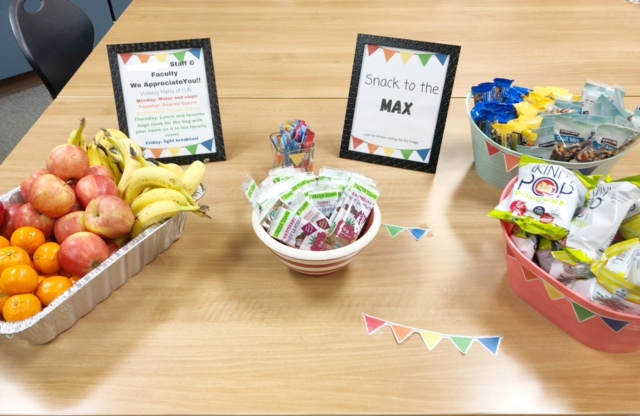 Wednesday
The freezer was loaded with frozen treats. We did a mixture of chocolate, and fruit bars. The chocolate ones went fast! 😊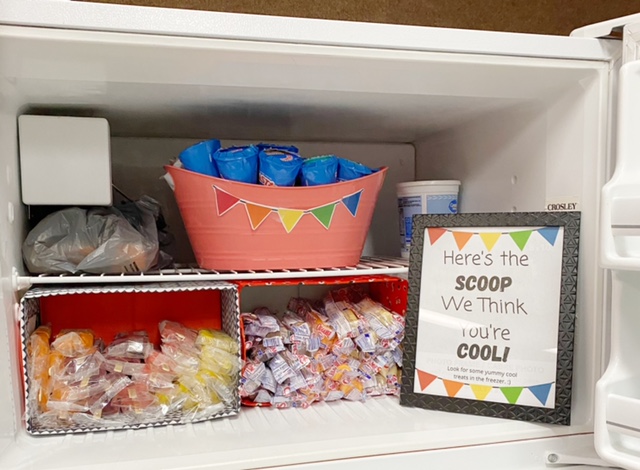 Thursday
We provided lunch for everyone. There was an order form on Monday for them to fill out. Then I dropped it off at the place we were getting lunch from. It was delivered a little bit before the first lunch started.
We had gotten a list of some of their favorites and put them into a bag. We included their favorite drink and treat for everyone. Then for the teachers we had huge boxes of markers and a free drink and cookie coupon from a local drink place.
Friday
In our school district Friday's are home learning. So, my kiddos and I went to the school to set up a light breakfast for anyone that was there on Friday. We had yogurts in the fridge. On the table we had some fruit and a few different kinds of protein bars, granola bars, and breakfast bars.
We left all the drinks, frozen treats, and snacks at the school for the amazing teachers and staff to have during the last few weeks of school, if they last that long.
Prepping for Teacher Appreciation Week
My friend and I had been prepping for what seemed like forever, haha! Not really. But it had been a few months. Here's a list of some helpful things to get you more ready and to help make the actual week run smoothly.
Make a list of all possible lunch places
Make calls and see if anyone can make donations (we got water and bags of chips, the free drink and cookie coupons donated)
We had a teacher email the entire staff to get their favorites and inform them of some of the things happening, mostly the extra lunch so they could plan on it.
Decide what you will do each day
Look at your budget wisely to see what you can do
Make a list of everything you need to buy
Divide and conquer – this worked well for us to get a lot more done in good time
Make a "menu" to have up for everyone knows what to expect for the week
Get on the good graces of the secretary! They will be so helpful!
Get a list of all teachers, their room numbers, and how many students they each have
Get a list of all staff (if you plan to include everyone like we did)
Try to print, prep, and get as much ready before the actual week.
Use the district's copy room to make copies, use their die cuts, and prep any papers
Get other parents to help if you need it
We heard great feedback! Everyone had a fun week. One of the teacher's favorites was extra lunch time. Next year, my friend and I are in charge again. We are hoping we will be able to get volunteers easier (it was hard due to Covid) and get the teachers extra lunch the whole week.
What have you done for teacher appreciation? Either as a teacher or as a parent? What would you add or change?
Xxx, Steph
Want these free printables? Click here or the picture below! Thanks for sharing this post on Instagram, Facebook, Twitter, and Pinterest!