12 Days of Easter Activity
This is a fun 12 days of Easter activity to help you celebrate Easter and bring some fun into this holiday. Plus a free printable!
Easter is coming up quickly. Is this a holiday you usually celebrate? We do in our house and we love it. Since we are religous we try to really talk about Jesus Christ and keep it centered around Christ. It's hard to get lost in the Easter Egg Hunts and the Easter Bunny. Although this is a very fun part, I wanted to bring in fun and teach my children the meaning behind Easter. Enter the 12 days of Easter!
This post may contain affiliate links at no extra cost to you. Thanks for your support of A Red Hair Girl. To get the full disclosure click here.
If you have little kids at home or teach little kids in a church setting than this is the perfect activity for you to do with them. There is a bit of prep work involved. But when you make the 12 days of Easter activity you can use it for years to come with no prep work. So, do the work now and benefit for years. 🙂
What is the real meaning of Easter?
Easter is a Christan holiday. But, anyone and everyone can and do celebrate it. We celebrate Easter to celebrate the Resurrection of Jesus Christ. After Jesus Christ died on the cross His body was placed in a sepulchre. His body stayed there until He was resurrected. Once He was resurrected His spirit and His body were reunited.
Why make a 12 days of Easter activity?
It's completely up to you and your family how you celebrate Easter. No judgement from me! If you want to have more Christ centered celebrations in your Easter season than this is an easy place to start. Your kiddos or students will have a fun time and learn about Easter at the same time. That's a win for me! 🙂
When I was teaching children at my church I made one of these for everyone in my class for them to have. At the same time I made one for my family. It was a lof of fun to put together for that group of kiddos. When I was a youth one of my church leaders made and gave this activity to each of us girls in her class.
How to create your own 12 days of Easter activity
After you gather your supplies and print off the papers you can get this put together in no time.
Gather supplies
Here is the master list of what you will need in order to make your own 12 days of Easter activity. This list is what you need for ONE set. If you are making more that one set you will need to times the following list by the number you want to make.
empty egg carton free of egg spills
12 plastic eggs
permanent marker
scissors
sacrament cup (little, clear, plastic cup)
3 dimes
knotted twine or piece of rope
chunk of bar soap
little square of red velvet or red fabric
toothpick cross or small nail
pair of small dice
a few very small pebbles or rocks
strip of white cloth
stone
bay leaf, cloves, or other herb
Print off Easter Egg Scripture
I created an Easter Egg Scriptures printable for you. You don't need to hunt each scripture down. Just print it off and cut them out. You will roll up each strip to place inside of the egg. Each strip is numbered, has the scripture and reference, and the object needed to go inside each egg.
I suggest printing off two copies of the Easter Egg Scriptures. Use one for your 12 days of Easter activity. Keep the other one in the box or tub with all of your Easter decorations. That way you will have an extra copy in case your kids are fighting and rip one of the strips in half. This may or may not have happened in my family. 😉
Number each egg
For this step you will need the 12 plastic eggs and permanent marker. You are going to write one number on each egg. Start at one and go to twelve. Super easy! One hint I have for you: write the number on the top and bottom so you can match the correct lid to the bottom of each egg.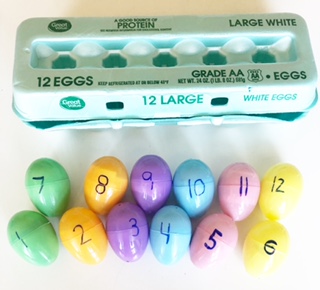 Assemble the eggs
Take all of your Easter Egg Scritpure strips, the numbered eggs, and the rest of the supplies to put each egg together. Simply roll up of the strip and place it inside the correctly numbered plastic egg. Make sure you add the correct object in each egg. The only egg that doesn't need anything is number 12.
Tips for the 12 days of Easter
The 12 days leading up to Easter do one egg each day, ending with the last egg on Easter
Hide all of these 12 eggs and let the kids do an Easter Egg hunt. After open them up one at a time in order.
Do these on Easter morning. Maybe before you look for what the Easter Bunny left.
Make up a treasure hunt to help your kids find each egg.
Have one child open up the egg and read the paper. Let the other children guess what the object is in the egg.
Why make your very own 12 days of Easter Activity?
Do you want to help bring Jesus Christ into your Easter celebrations more? Do you need a fun and simple Easter activity you can pull together quickly? Than this is for YOU! Take a few moments now to have a tradiation for years to come. Don't forget to print up your free Easter Egg Scripture. Then share this will all of your friends. 🙂
Xxx, Steph